For help with theme customisation and embedding our dynamic logo into your Shopify store
To show your Shopify customers that your business is planting trees within Ecologi, you're able to embed our 'dynamic logo' into your Shopify store. To locate the dynamic logo, please follow these steps:
Login to your Ecologi profile

Click Business tool kit on the left-hand toolbar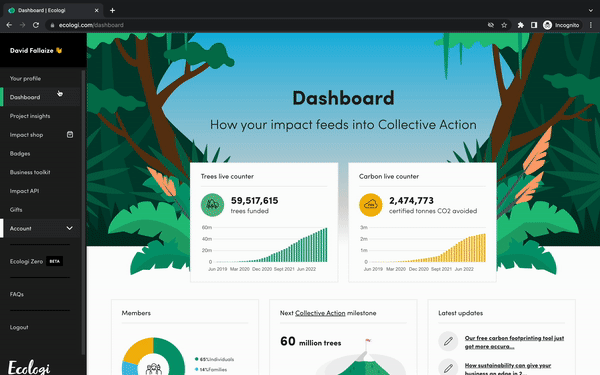 Once you have this you're able to embed this into your store by adding a "Customer liquid" section through the Shopify theme editor. Here you'll be able to paste the dynamic logo HTML snippet we provide. For more help, here is the specific 'Themes' page in the Shopify Help centre.
For any further assistance with customising your Shopify store, please visit Shopify's Help center. You can also post on the Shopify Community Forum. Shopify Experts and Developers regularly help out with posts there - they have the knowledge and experience necessary to provide accurate support.