Guide to setting up automated tree-planting with Ecologi through our Shopify app
App set up guide
For businesses looking to join our growing community of Shopify merchants using our app, follow these simple steps to add tree-planting to your Shopify store.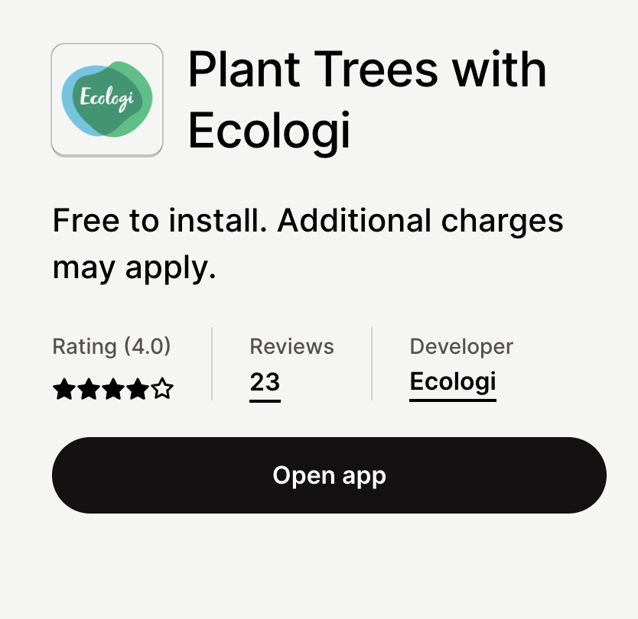 2) Once you've chosen to add the app, you'll next need to confirm the installation.
Here you can view the information that we'll need access to!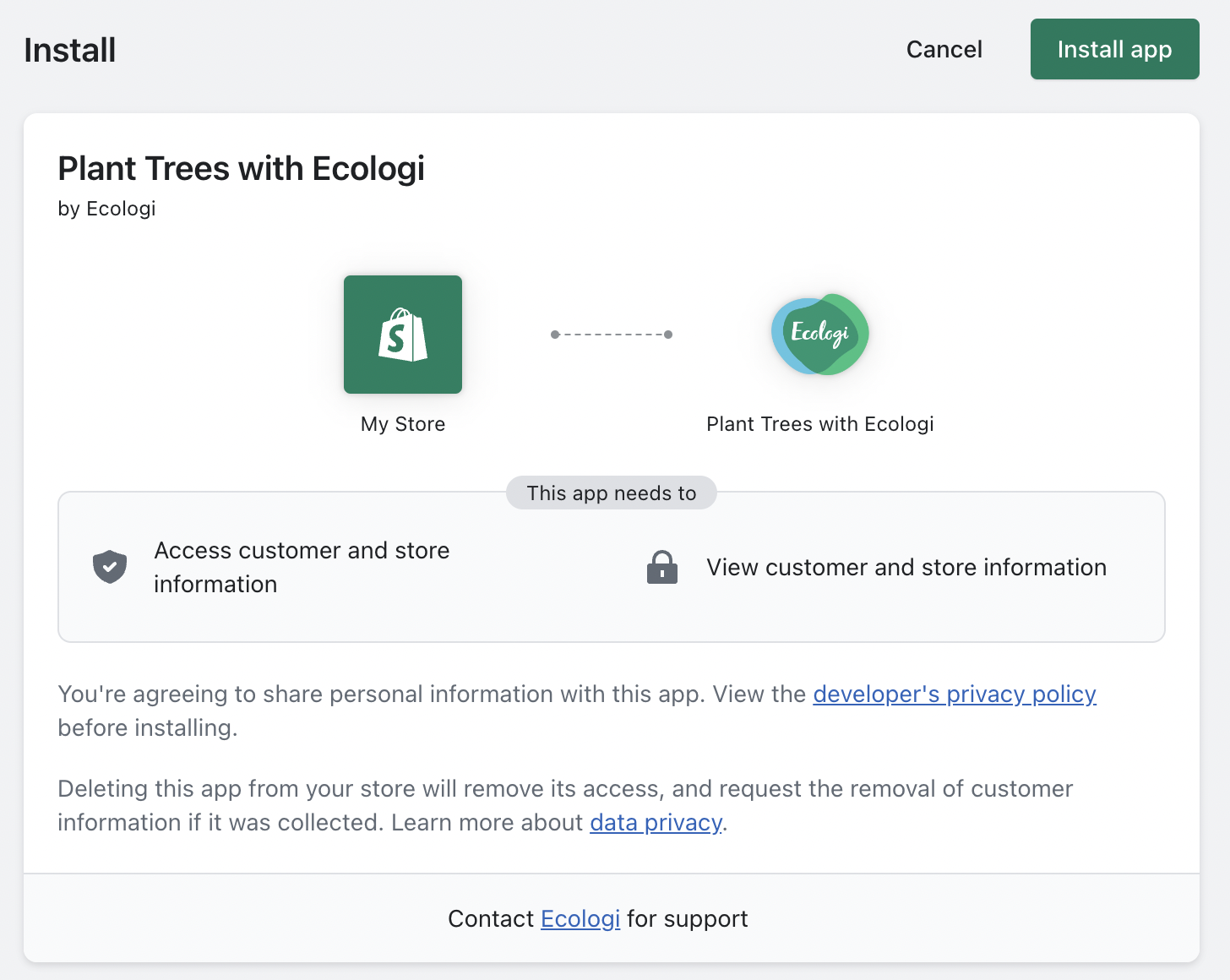 3) Now the app is installed, we can 'Get started' with configuring your set-up.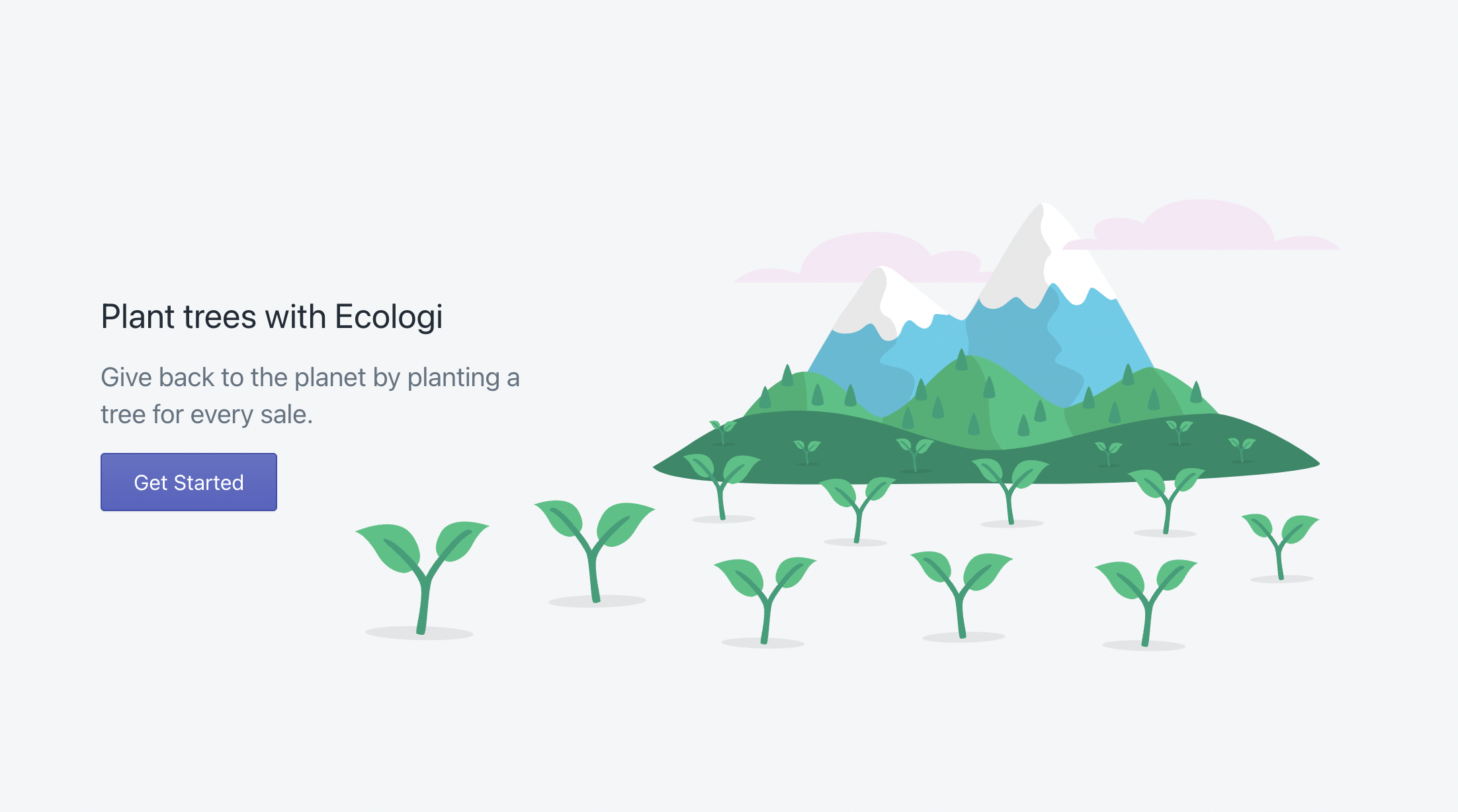 a) Connect your Ecologi account, please follow the instructions below
To use this plugin you need an Ecologi account. If you don't currently have one, please visit https://ecologi.com/impact-only to create one.
Once you have an account, you need to create an API key.
Click on the "Create new API Key" button
Enter a description for the key (for example "Shopify API Key")
Click on the "Create key" button
A new line should appear in the keys table. Select the value of the new Key and copy it
Paste your API Key and connect your account
b) Confirm that you're happy for us to charge your Shopify account

c) Set a capped number of trees per each monthly billing period (if required)

d) Choose your tree planting settings, whether it be per product sold or in relation to your revenue

Once you've linked your account, authorised payments and chosen your app configuration you'll begin planting trees 🌳 you'll then be charged in line with your Shopify billing date.
4) FAQs
How do I show my customers the trees they are planting through my store?
You can do this by using our 'dynamic logos'. This is a live tree counter that can be embedded directly into your Shopify store to show your customers the real-time impact they're funding. For help setting this up, please visit this knowledge base article here.

How much do trees cost to plant through the app?
Trees cost $0.33 each.

How and when will I be billed by Ecologi for the trees?
All tree purchases made through Shopify will be invoiced through Shopify's invoicing system once a month. Shopify works on billing cycles, so during that billing period any 'usage fees' (tree planting orders) will get stacked into their account and then billed at the end of that period.
Ecologi customers with a subscription account and are using the Shopify app may find that their two billing cycles do not match (i.e. Shopify bills on the 3rd of the month whilst Ecologi may bill on the 23rd for example.

How do I cancel my tree planting through the app?
To cancel tree planting through the app, please visit your Shopify account settings to action this.

Who do I reach out to for support?
For billing and invoicing help related to the Shopify app, please reach out to Shopify's support via the Shopify help center.
For any queries related to Ecologi specific areas such as the tree planting itself or the use of Ecologi assets, please reach out to us via the chatbot on our website.